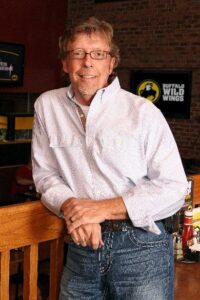 Larry E. Tipton of Lancaster, Ohio has owned and operated several businesses during his career. Currently, Larry owns 10 Buffalo Wild Wings Grill and Bar® locations in Ohio and Arizona as well as the Pizza Cottage restaurant group. The overall mission of Larry's restaurants is to create a dining experience that is fun and affordable for everyone, while providing good jobs and giving back to the communities that keeps his businesses strong.
Before Lancaster Wings Inc., Larry was a professional musician, playing guitar as the front man in a three-generation bluegrass/country rock band – the Pleasant Mountain Boys. After winning a talent show in 1977, the band went on to tour, make several records, headline with legendary country musicians and perform at the prestigious Grand Ole Opry.
In June 1988, after being bitten by the entrepreneurial bug through his work in the entertainment industry, Larry co-owned and operated Desert Rose in Lancaster. He owned Tips Motor Car, Tips Car Wash and Tips Tanning Center before selling the operations and opening The Tavern at the Mill in 1992. In 1997, Larry sold The Tavern at the Mill and began his franchise ownership of Buffalo Wild Wings. In August 2010, Larry opened a franchise of Golden Corral Buffet and Grill in Lancaster with record-breaking opening sales. He later sold the restaurant in June 2011.
Larry and his wife MaryBeth live in Delaware, Ohio. They have four children and four grandchildren.