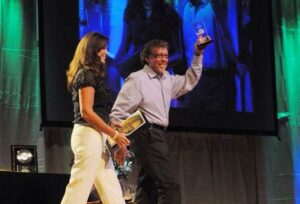 Lancaster Wings, Inc. is a collection of Buffalo Wild Wings franchise restaurants located across Central Ohio and Arizona, as well as the Pizza Cottage restaurant group. Owned by Larry E. Tipton of Lancaster, Ohio, the Lancaster Wings, Inc. locations consistently boost an enjoyable atmosphere so loved by the local supporters of all Buffalo Wild Wings and Pizza Cottage locations. The mission of Lancaster Wings, Inc. is to create a dining experience that is fun and affordable for everyone, while providing good jobs and giving back to the communities that keep its businesses strong.
Buffalo Wild Wings offers more than just wings, beer and sports. We work to accommodate a fun and friendly environment in which our guests can comfortably enjoy great food at a great cost, all while staying close to home. We understand the importance of valuing a sense of community in our business. We make the continuous effort to localize our restaurants, hosting fundraisers and events that are both relevant and beneficial to each location. Click here to see how we can help your local organization.
Pizza Cottage is well-respected and well-known throughout the region for outstanding pizza and service. Founded in 1972 by Jack and Yvonne Gorham, the business has expanded by operating on the following principles: always use the finest ingredients available, treat your customers and employees like family and always give back to the community. Dining at Pizza Cottage is like dining around your own kitchen table: no matter which location you visit, you're always surrounded by great food and great people that will ultimately create great memories.
Buffalo Wild Wings Locations
Athens, Ohio:  23 West Union Street, 45701
Canal Winchester, Ohio:  6340 Prentiss School Street, 43110
Heath, Ohio:  603 Hebron Road, 43056
Lancaster, Ohio:  1283 North Memorial Drive, 43130
Mount Vernon, Ohio:  907 Coshocton Avenue, 43050
Reynoldsburg, Ohio:  2386 Taylor Square Drive, 43068
Flagstaff, Arizona:  2700 S. Woodlands Boulevard, 86001
Prescott Valley, Arizona:  2985 N. Centre Court, 86314
New Philadelphia, Ohio: 1072 W. High Avenue, 44663
Bullhead City, Arizona: 2040 Highway 95, 86442
Pizza Cottage Locations
Buckeye Lake: 4592 Walnut Road, Buckeye Lake, OH 43008
Circleville: 23401 U.S. 23, Circleville, OH 43113
Lancaster: 2223 W. Fair Avenue, Lancaster, OH 43130
Newark: 969 Mt. Vernon Road, Newark, OH 43055
Pickerington: 1000 Old Diley Road, Pickerington, OH 43147
Zanesville: 3938 Pond View Drive, Zanesville, OH 43701
Before Lancaster Wings Inc., Larry was a professional musician, playing guitar as the front man in a three-generation bluegrass/country rock band – the Pleasant Mountain Boys. After winning a talent show in 1977, the band went on to tour, make several records, headline with legendary country musicians and perform at the prestigious Grand Ole Opry.
In June 1988, after being bitten by the entrepreneurial bug through his work in the entertainment industry, Larry co-owned and operated Desert Rose in Lancaster. He owned Tips Motor Car, Tips Car Wash and Tips Tanning Center before selling the operations and opening The Tavern at the Mill in 1992. In 1997, Larry sold The Tavern at the Mill and began his franchise ownership of Buffalo Wild Wings. In August 2010, Larry opened a franchise of Golden Corral Buffet and Grill in Lancaster with record-breaking opening sales. He later sold the restaurant in June 2011.
Larry and his wife MaryBeth live in Delaware, Ohio. They have four children and four grandchildren.
Visit www.larrytiptonrestaurants.com for all up-to-date information.